The medical marijuana ballot petition for Ohio patients has been approved by the Board of Elections, Secretary of State, and the Ohio Attorney General.
The Ohio Alternative Treatment Amendment petition is ready for you to help circulate and get it signed! This is your chance to help end medical marijuana prohibition here in Ohio. Please tell your friends, family, co-workers, college professors, doctors, and anyone else in between that we are recruiting volunteers. Send them to this site. Have them send an e-mail with their name, address, phone number, and e-mail address to This email address is being protected from spambots. You need JavaScript enabled to view it. They will then be added to our list of petition volunteers.
Now, let's make Ohio Medical Marijuana a reality and get those thousand's of signatures so we can put it on the ballot. If you want to get involved as a petitioner, please download and print the PDF file and sign up as a volunteer using the Volunteer menu on this website. Be sure to read the first page carefully, then print as many copies as you can afford and go get signatures. You will find it a rewarding experience. Here is the link to the official petition with an instruction page.
Our friends from Miami Valley Norml have found a very useful aid to help us in the collection process.
1. Go to Staples or Office Depot and buy a legal size clipboard ($2-$3)
2. Use the following image (link below) for the back of your clipboard. This makes it easier and faster in the collection process especially in crowds.
http://www.miamivalley-norml.org/images/stories/medical/NORML_Clipboard_Sign.pdf
or without the NORML logo
http://www.miamivalley-norml.org/images/stories/medical/Ohio_Petition_Clipboard_Sign.jpg
You may want to get several clipboards to make your signature gathering quicker especially in a crowd. NORML provided some helpful hints for a clipboard to making it easier and faster to collect signatures. You can get the image so you can make your own sign for your clipboard with this link to the image.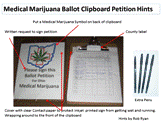 Be sure to look over and become familiar with the official instructions (5MB file), that was provided by the Secretary of State, on how signatures are verified. The important parts are highlighted in yellow again it is a big file (5MB), so be patient if you have a slow connection and want a really good copy. A smaller legible copy (1.3MB) is also available in this link.
Please send the ballot committee an email using the Contact MMJBALLOT link so Ohio Patients can help assist and coordinate efforts.